OH MY GOD I JUST TALKED TO GERARD BUTLER ON THE PHONE!!!!! AND HE SENT ME BIG KISSES!!!!! AND BIG HUGS!!!! AND HE CALLED ME 'DEAR' AND 'DARLING' *MELT*!!!!! AND ELYSE & MEL GOT HIM TO SIGN A SHIRT FOR ME!!!!!!!!!

I'm so flustered right now. These types of things dont happen to us Texan folk!!!

I'll try to type out the conversation once I stop shaking

EDIT:

OK HERE'S WHAT ACTUALLY HAPPENED!!! Mel (
melakathemeems) & Elyse (
ewanmesong) are in red (my two AWESOME LA friends who went to see Gerry on Craig Ferguson), Gerry's in blue and I'm in green. Also...keep in mind that I had less than 2 hours of sleep the night before...so I was a little delirious..... we all know I would normally be tongue tied if I ever talked to him and was actually well-rested. ;)
[Wendy's shirt on back of car]
Mel [to Gerry]: can you sign this shirt for somene you're going to talk to right now?
[Gerry turns]
Mel: she's on the phone
Gerry: oh ok [takes the phone] hello?
Gerry: sorry, what was your name again?
Me: [stunned]....my name is wendy...
Gerry: hello wendy I'm gerry!
Me: I KNOW!!
Gerry: so how are you doing darling?
Me: I'm doing great! how are you!
Gerry: I'm good I'm good
Mel: she's stuck in school all the way in Texas so she couldn't be here today
Gerry: oh oh my dear you're stuck in school. I will send you some big hugs and big kisses
Me: Just wanna let you know that I'll be watching you on Craig Ferguson tonight all the way from Texas! You have tons of fans here too!
Gerry: hey! guess what I'm doing right now!
Me: what!
Gerry: I'm signing a t-shirt for you! hello? hello? I think it's dead [at this point the phone DIED and I'm sitting in my room staring at my phone in disbelief]
Mel: wendy's dead??
Elyse: wendy's dead??
Gerry: [worried] wendy's dead?? [realizes Mel and Elyse were referring to the PHONE being dead] [jokingly] everybody! wendy's dead!
[everyone laughs]
Gerry: oh no! I thought I killed her! Phew!...... I didn't kill her did I?
Mel: you may have!
[Gerry finishes signing shirt]

*dies* Obviously a lot of this is from Mel & Elyse since I was cut off halfway through. BUT IT'S OK!!! I think I can die happy now.
The shirt + the sharpie he used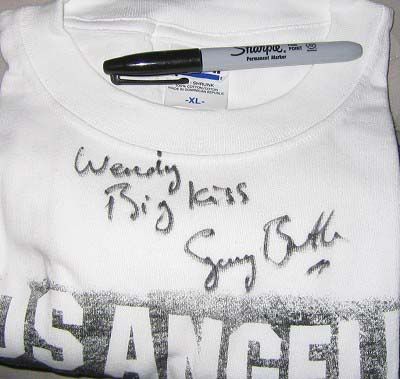 Mel and Elyse are my heros!!!!!!!!!!!!!!!!!!!!!!!!!!!!!!! and they got kisses too!! (on the mouth! :O) SO JEALOUS

OK EDITED AGAIN!! This is what Gerry does to my typing skills (by the way...at the time, I thought I was actually typing coherent sentences....):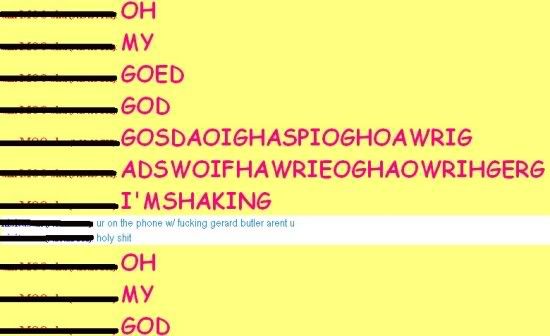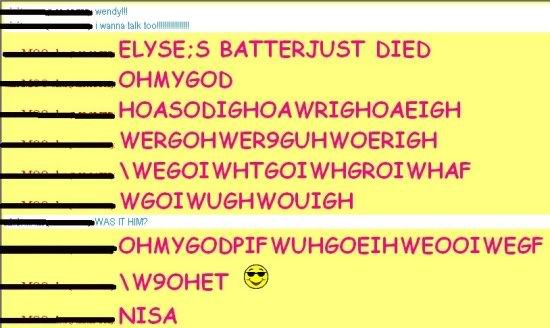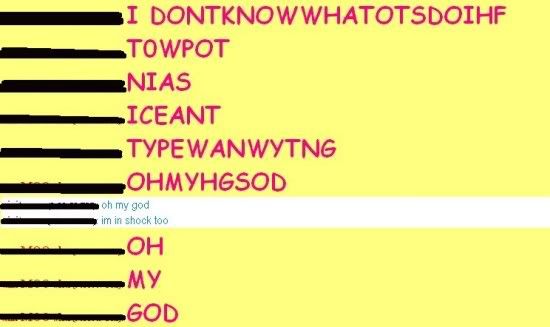 EDIT AGAIN!!! HOLY CRAP NOW THERE ARE PICTURES OF HIM TALKING TO ME ON THE PHONE!! *HYPERVENTILATES*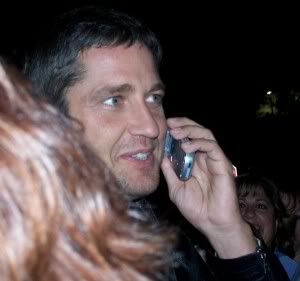 thanks a MILLION to
shatteringglass for that snapshot!!!!