cant sleep. again. seriously think I have insomnia

Got a lot of opinions on my favorite dresses... so let's try favorite movies...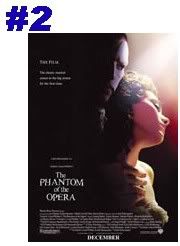 and the rest in alpha order...


Moulin Rouge

- Everything about this movie is perfect. A lot of people didn't like it. I didn't even like it the first time I saw it. But in the end....well...you know how that turned out ;)

Phantom of the Opera

- Didn't LOVE it the first time I saw it....we'll just call this the Moulin Rouge syndrome. It was probably because I had just seen the stage show before I went to see the movie. Weird though...cause I went into the movie holding Emmy up on a pedestal, and now I really can't stand her much. Funny how things change..... ah well, Gerry's still a hot piece of ass. yum.

A Beautiful Mind

- maybe it's the math nerd in me...but I loved this movie. Not a big Russell Crowe fan, but I thought he deserved to win the oscar for A Beautiful Mind more than he did for Gladiator.

Back to the Future

- loved every single sequel. have a soft spot for all time travel movies (includes Timeline...even though Paul Walker was laughable in it)

Big Fish

- made me want to go home and give my dad a hug. Albert Finney was robbed of an Oscar nomination. He seriously had me fooled thinking he was actually American. oh yes...and Ewan was in it too :p

Breakfast at Tiffany's

- I wonder if they'll actually let me get a cracker jack ring engraved at Tiffany's? probably not huh.....


Bridget Jones's Diary

- fucking hilarious. made me love Colin Firth and hate Hugh Grant even more. (though he was pretty entertaining in About A Boy...) Sucks that they made a not-as-funny sequel. :(

Catch Me If You Can

- also have a soft spot for con movies (which will explain Ocean's 11 and The Italian Job)

Clueless

- LYKE WHATEVER! man I wanted to be one of those rich bitches so bad (and still do) also still wish I had her closet.... and yes, that

was

Brittany Murphy as Tai

Dear Frankie

- now before you judge...I didn't just put this one on my list because of Gerry!! I love

every single

goddamn character in this movie. Emily = perfect. Jack = perfect. Gerry = pair-fect

Dirty Dancing

- nobody puts baby in a corner! Why did Jennifer Grey have to go and get a nose job -_- and why did Patrick Swayze have to get old??


Ferngully: The Last Rainforest

- one of the best cartoon movies ever. I was trying to decide between Ferngully and the My Little Pony movie, but since I couldn't find a picture of the MLP movie...Ferngully it was. I was like....7 years old when I saw it. and the evil monster cloud guy scared me to pieces too

Finding Neverland

- Johnny Depp with a Scottish accent!!! oh and Kelly MacDonald as Peter Pan!! (she was in Trainspotting with Ewan). When I first heard about this movie, I thought it was a biography on Michael Jackson's life....

Forrest Gump

- who

doesn't

like Forrest Gump?


Ghost

- ok...the Demi/Whoopi kiss was pretty creepy...but the rest of the movie was fucking awesome.

Grease

- finally got to see it this past week....and I must say it rocked my socks off. I never fully understood the whole John Travolta thing...but now I guess I kinda do. I <3 my musicals...

The Italian Job

- I wasn't expecting to like this one...mostly because I'm not a big fan of Charlize or Mark, but I really liked them in this movie... plus Seth Green and Mos Def were hilarious

The Joy Luck Club

- I probably only like it because I'm asian & the entire movie reminds me of my family.


Memento

- AWESOME. This movie boggles my mind. If I had a list of Oscar snubs, Ewan would be #1 (for Best Actor), and Memento would be #2 (for Best Picture).


Mulan

- there goes my asian-ness again. I really need to supress that....

My Fair Lady

- THE RINE IN SPINE STIES MINELY IN THE PLINE. Audrey Hepburn...you are my hero

Now and Then

- this movie was my LIFE. I can recite every single line & re-enact every single scene....I still cant believe Christina Ricci's character grows up to look like Rosie O'Donnell.... and why did that bitch get to kiss Devon Sawa in

two

different movies???

Ocean's 11

- see

Catch Me If You Can

The Others

- Nicole is the shit. The ending is the shit. That overrides the fact that Tom Cruise is tied to this movie.

Pretty Woman

- kinda like Forrest Gump. Doesn't everyone like this movie?

Rain Man

- ok..before you start calling me a hypocrite for dissing Tom Cruise, then putting one of his movies on my list.....just know that I only like this movie because Dustin Hoffman is ridiculously impressive in it.


Requiem For a Dream

- this one was SO weird...but I really liked it. Except for when Jennifer Connelly has a very intimate encounter with a dildo. That was just bizarre and disturbing.....


Sky Captain and the World of Tomorrow

- I wasn't expecting to like this movie...but I thought the story and the visuals were so cool. Plus Jude is one hot pilot.


The Sound of Music

- quite possibly one of the best movies of all time.


That Thing You Do!

- SHADES!!! I had the

biggest

crush on Tom Everett Scott, who played Guy Patterson (aka Shades). Does this qualify as another musical? If so...damn, I'm just rackin these up...

Tootsie

- hahahahaha Dustin Hoffman in drag. awesomely bad

Trainspotting

- LOVE LOVE LOVE this movie. It came veeeeeeeery close to being my #3. Ewan's big "break-out" movie role. Every single character is hilarious. and lots of drugs and sex. woohoo! baby crawling on the ceiling still freaks me out though....